This piece was shown at the Ryerson Third Floor Gallery show in January 2007. Six panels of six photographs each fit together seamlessly and extend to 24 feet in length. The content in this body of images stretches almost the entire length of Queen St. from Roncesvalles to Fallingbrook (almost 15 km).
I've always thought Queen St. has many distinctive and unique qualities which I've never seen replicated anywhere else. There are very few buildings above two or three stories and the architectural styles don't vary too much. Riding the street car has been my most common form of public transportation from the Beaches to downtown since I was very young.
I wanted to express the differences and similarities that can be seen en route as though the viewer is catching glimpses through a streetcar window. Brief moments are juxtaposed against each other as the viewer rides this lengthy piece from one end to another. New sights are discovered and familiar places are recognized along the way.
Small View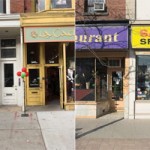 Medium View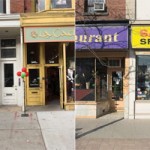 Large View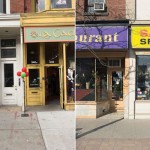 After opening, click image to enlarge and use scrollbars to navigate. Use your back button to return to alexwebster.ca.